Ive long since been a Magpul fanatic since my first genuine Magpul purchase. The quality of their products, the theory, teachings and design behind their products attract more and more users everyday. Currently my primary weapon (G&G GR-16) is equipped with Magpul furniture and more are on order as we speak.
Last years Shot Show introduced to the airsoft community the ASAP (ambidextrous-sling-attachment-point), MS2 Sling, MBUS, BAD Lever, Ready Mag and MOE Hanguard. Soon there were airsoft counter parts hitting stores across the world.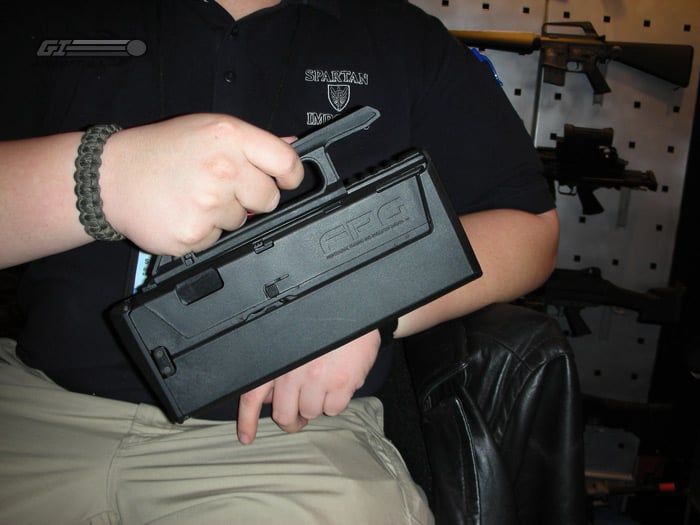 Shot Show 2010 has introduced a plethora of anticipated airsoft weaponry from Magpul. "Booligan" on airsoft retreat has provide a slue of pictures from Shot Show. Magpul had on display their Masada, EMAG, and their highly talked about FPG (Folding Pistol Gun; Real Steel Counter Part - FMG9) which utilizes Glock magazines.
Having a weapon like this will change the portability of compact weaponry. The FPG could be used as a backup an operator could use in a daypack, or as a primary in close quarter situations. Theoretically speaking if produced this would be as compact and if not more portable than the
KWA MP9
(also introduced at Shot Show 2010)
I will work hard on getting my hands on a prototype Magpul FPG. Expect a review as soon as I do.
Also shown at their booth was the AFG (angled foregrip) which is fairly new to the airsoft community. Apart of Magpuls Theory Based product line the AFG is said to make the shooter more efficient instead of making the weaponry run effectively. Clones and ACM counter parts have already hit the market for these and I myself have seen them already on airsoft weapons.
Spartan Imports has provided a teaser trailer of the Magpul FPG GBB in action
Check out the Magpul Booth from Shot Show 2010 from AR15.COM
I do not own the pictures or media content on the post nor am I implying that they my own. They are properties of their respective owners and using them for educational purposes.